Alright... I think this is going to be my last post about the con and the little San Francisco vacation. *sob*
First of all… I still can't believe that all of this has already been a week ago. Right now we'd be queuing for the photo ops and all…!! Man, time really flew by fast.
But from all the cons I've been to so far, this one was definitely one of the most fun ones. I had such a good time and met so many awesome ppl.
( Things I saw… ppl I met )
Ok… last but not least… here are my pictures from San Francisco and Santa Monica!! :-) Enjoy. Most of them are self-explaining *gg* I think, although San Francisco literally tried to kill us, we had a good time. And I was impressed by the beauty of this town. I think my highlight was Alcatraz. I was impressed by everything and all the history within these walls (the audio tour they had was beyond amazing) I could have wandered around there for hours!! I hope to go back some day, b/c I def. want to see it all again!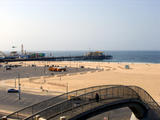 Alright, enough talking… now let's look at some pictures, shall we? *g*
Link to both galleries… and don't get distracted by the boys, okay? :D